In-Game Examine Window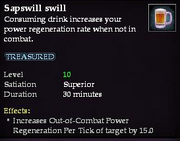 EverQuest II Item Information
Type: Drink

Sapswill swill

Cosuming drink increases your power regeneration rate when not in combat.
 
TREASURED
Satiation
Superior
Duration
30 minutes
Level
10 (Tier 2)
Effects:

Increases Out-of-Combat Power Regeneration Per Tick of target by 15.0




Obtain: Reward from the quest "Ghosts and Goblins" in Queen's Colony.
What does this information mean?