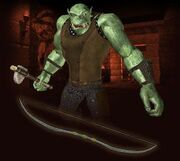 .
What does this information mean?
Must have killed five named AND Kilug.
Retrieve Herald of Zek's Symbol of Obedience. (In a small room (in a box) at the bottom of the basement, near the gate to the Arena. ( 8, -25, 22 ) 

/waypoint 8.40, -25.00, 21.82

)

Return to the Altar of Tallos, and click it.

Head up to the roof.
Maknok fears, use walk/crouch to help keep from falling off the roof.
Kill Captain Vulis first: Sanctifier Maknok can't be killed until Vulis is dead.
Vulis doesn't take much damage unless he is near one of the detrimental-causing Totems of Submission that spawn.
Prioritize:

Cure the curse Lashes, once cursed you have about 10 seconds before it increments (once per 5 seconds). Three increments = death.
After Vulis is dead, Maknok spawns Totems of Destruction, destroy these quickly, as they significantly buff Maknok's damage and defense.