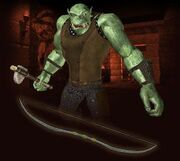 .
What does this information mean?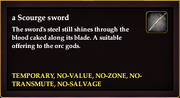 To spawn Sanctifier Kilug, go to the Shrine to Tallon Zek.
Kilug spawns using items that drop from Scourge orcs in the keep, spears, swords, hammers, and shields.

In some cases, you will find that one weapon type hasn't dropped from the orcs. In that case, the missing weapon(s) is on the wall in the Old Deathfist Stockpile over the Prince's bedroom ( 10, 16, 35 ) 

/waypoint 9.73, 16.00, 34.8

Click the Shrine to offer the four weapons.
Read the tooltips on the four banners around the Shrine to Tallon Zek to see which items in what order are needed. This is not always the same. If you get it wrong you'll be killed. If this happens you'll lose your offerings, but they are now scattered around the Keep as clickable objects in random places.

The door to the Ritual of Blood is now open ( 3, 1, 23 ) 

/waypoint 3, 1, 23

and Kilug awaits.
You can only dispel Sanctifier Kilug's offerings while targeting him with hostile spells from within the blood bath!