In-Game Examine Window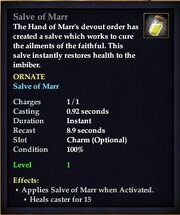 Salve of Marr
The Hand of Marr's devout order has created a salve which works to cure the ailments of the faithful. This salve instantly restores health to the imbiber.

ORNATE
Salve of Marr
 
Charges
1/1
Casting
0.92
Duration
Instant
Recast
8.9 seconds
Slot
Charm (Optional)
Level
1 (Tier 1)
 
Effects:


Applies Salve of Marr when Activated.
Obtain:
[information needed]
What does this information mean?