In-Game Examine Window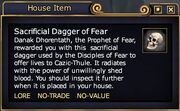 EverQuest II Item Information
Type: House Item
Subtype: World Event Reward

Sacrificial Dagger of Fear

Danak Dhorentath, the Prophet of Fear, rewarded you with this sacrificial dagger used by the Disciples of Fear to offer lives to Cazic-Thule. It radiates with the power of unwillingly shed blood. You should inspect it further when it is placed in your house.
 
LORE  NO-TRADE  NO-VALUE
Effects:

Examining this item while placed in a house, gives the effect Taint of Sacrifice.




Obtain: Purchased from a Noble Taig Rhul for 10 Loyalty Point Tokens.
\aITEM -710197980 2094926710:Sacrificial Dagger of Fear\/a \aITEM -710197980 2094926710:Sacrificial Dagger of Fear\/a
What does this information mean?
Formerly from the quest, Shreds of Fear, a world event.
Taint of Sacrifice imbues the caster with the black mark of fear.
When target is damaged this spell has a 5% chance to cast Taint of Sacrifice on target's attacker. Lastes for 10.0 seconds.

Makes target afraid
70% chance to dispel when target takes damage
Does not effect Epic targets

Resistibility increases against targets higher than level 84.
Ad blocker interference detected!
Wikia is a free-to-use site that makes money from advertising. We have a modified experience for viewers using ad blockers

Wikia is not accessible if you've made further modifications. Remove the custom ad blocker rule(s) and the page will load as expected.