In-Game Examine Window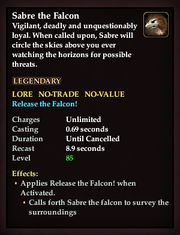 Sabre the Falcon
Vigilant, deadly and unquestionably loyal. When called upon, Sabre will circle the skies above you ever watching the horizons for possible threats.

LEGENDARY
LORE  NO-TRADE  NO-VALUE
Release the Falcon!
 
Charges
Unlimited
Casting
0.67 seconds
Duration
Until Cancelled
Recast
6.6 seconds
Slot
Charm (Optional)
Level
85 (Tier 9)
 
Effects:


Applies Release the Falcon! when Activated.

Calls forth Sabre the falcon to survey the surroundings.
Obtain: Reward from the quest "Message To Keep."
What does this information mean?