EverQuest 2 Quest Information
Journal Category
Betrayal
Journal Level
Scales with player level
Journal Difficulty
Solo
Starting Zone
The Commonlands more
How to Start
Speak to Gil McMartin at ( -1030, -50, -11 ) 

/waypoint -1030, -50, -11

near the West Freeport gates.
What does this information mean?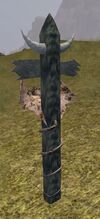 Destroy 5 or 6 road markers (random spawn) along any road in the Commonlands. (may take a very long time)
Return to Gil McMartin for your reward.
Ad blocker interference detected!
Wikia is a free-to-use site that makes money from advertising. We have a modified experience for viewers using ad blockers

Wikia is not accessible if you've made further modifications. Remove the custom ad blocker rule(s) and the page will load as expected.