Ad blocker interference detected!
Wikia is a free-to-use site that makes money from advertising. We have a modified experience for viewers using ad blockers

Wikia is not accessible if you've made further modifications. Remove the custom ad blocker rule(s) and the page will load as expected.
In-Game Examine Window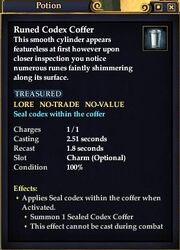 Runed Codex Coffer
This smooth cylinder appears featureless at first however upon closer inspection you notice numerous runes faintly shimmering along its surface.

TREASURED
LORE   NO-TRADE   NO-VALUE
Seal codex within the coffer
 
Charges
1/1
Casting
2.51
Recast
1.8
Slot
Charm (Optional)
 
Effects:


Applies Seal codex within the coffer when Activated

Summon 1 Sealed Codex Coffer
This effect cannot be cast during combat
Obtain: From Cerennhir Aelindel in New Tunaria
What does this information mean?