The information below has been verified with in-game data and the information on this page is correct, even if it looks stupid or makes no sense.
---
Fact: The Rumbler Caves or just Rumbler Caves?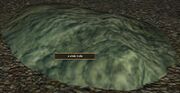 What does this information mean?
Description
Edit
Moderate-sized cave system with numerous encounters of level 23-26.
Bosses (level 27) are very rare in the solo version; roughly 1 in 5 chance for each boss.
Entrance
Edit
Located at the sharp turn in the dry riverbed near Village of Thundermist around ( 577, -21, 180 ) 

/waypoint 577, -21, 180

, a pile of dirt that highlights with your mouse with the words "a sink hole". The entrance moves around this part of the riverbed.
Related Quests
Edit
See Also
Edit