The information below has been verified with in-game data and the information on this page is correct, even if it looks stupid or makes no sense.
---
Fact: The Rumbler Caves or just Rumbler Caves?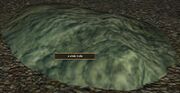 What does this information mean?
Description
Edit
Moderate-sized cave system with numerous encounters of level 23-26.
Bosses (level 27) are very rare in the solo version; roughly 1 in 5 chance for each boss.
Entrance
Edit
Located at the sharp turn in the dry riverbed near Village of Thundermist around ( 577, -21, 180 ) 

/waypoint 577, -21, 180

, a pile of dirt that highlights with your mouse with the words "a sink hole". The entrance moves around this part of the riverbed.
Related Quests
Edit
See Also
Edit
Ad blocker interference detected!
Wikia is a free-to-use site that makes money from advertising. We have a modified experience for viewers using ad blockers

Wikia is not accessible if you've made further modifications. Remove the custom ad blocker rule(s) and the page will load as expected.