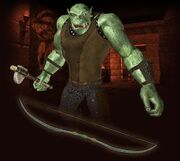 .
What does this information mean?
Rujark does not appear until Advisor Nazgoth has died; he will run from the back towards his throne. Suddenly when the advisor die, you can move back far from Rujark to recover in the hall before next fighting.
He also calls all mobs in the hall when his health drops to 50%. Be clever to finish those underlings first.
If you do not attack Rujark in time, he will despawn and you have to defeat the advisor again.
Ad blocker interference detected!
Wikia is a free-to-use site that makes money from advertising. We have a modified experience for viewers using ad blockers

Wikia is not accessible if you've made further modifications. Remove the custom ad blocker rule(s) and the page will load as expected.