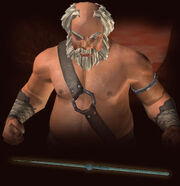 .
What does this information mean?
Note: as of 170810, the zone is broken, once having spoke to Googegguta and entring the zone, nothing is attackable.
You start off against an epic x2 Rognog with ~150k hp. At about 30% health (or lower), the encounter will reset and Rognog turns into an epic x4 with ~440k hp.
If you're doing this at level 80 or 90 just to get the Raid Achievement, slow down your dps. If you kill him before the encounter resets, the Failure Lockout timer is triggered and you'll have to wait 12 hours before being able to try again.
Ad blocker interference detected!
Wikia is a free-to-use site that makes money from advertising. We have a modified experience for viewers using ad blockers

Wikia is not accessible if you've made further modifications. Remove the custom ad blocker rule(s) and the page will load as expected.