In-Game Examine Window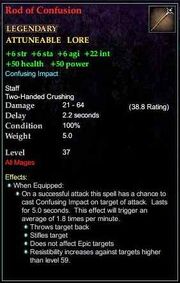 Rod of Confusion

LEGENDARY
ATTUNEABLE  LORE

+6 Primary Attributes

+6 sta




+50 health

+50 power



Confusing Impact
 
Staff
Two-Handed Crushing
Damage
21-64                  (38.8 Rating)
Delay
2.2 seconds
Level
37 (Tier 4)
 
Effects:


When Equipped:

On a successful attack this spell has a chance to case Confusing Impact on target of attack. Lasts for 5.0 seconds. This effect will trigger an average of 1.8 times per minute. If a melee attack is used, only the primary weapon can trigger this effect.

Stifles target
Throws target back
Does not effect Epic targets
Resistibility increases against targets higher that level 59.
Obtain: From The Beguiler in Runnyeye.
What does this information mean?