What does this information mean?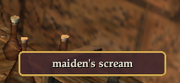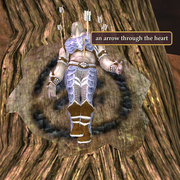 Rinis is on the first floor in the alchemist chamber, Lich's Brew, SE tower ( -11, 8, 27 ) 

/waypoint -11, 8, 27

To spawn Rinis, you will need to collect several ingredients.

A blood-stained shackle (by the cauldron) ( -11, 8, 27 ) 

/waypoint -11, 8, 27

.
Maiden's Scream (across from cauldron) ( -16, 9, 41 ) 

/waypoint -16, 9, 41

Vile Essence (SW tower, top floor) in Old Deathfist Stockpile ( 19, 17, 28 ) 

/waypoint 19, 17, 28

Blood Sap (the arrow piercing the orc on tree outside the Keep) ( 139, -12, 138 ) 

/waypoint 139, -12, 138

Deathrot Oil (-8, 1, 22)

Needed for the fight; she gets an invincibility that can hit through with it, however it heals her if you pop it before the invincibility pops. Make sure you save it until then.

If you are on the signature quest The Siege of Zek: Sacrifice (Solo), you can kill Rinis and Yallessulich in the same run, although you won't get achievement or chest for the Yallessulich on the quest kill (you can come back later and kill him for credit).
Ad blocker interference detected!
Wikia is a free-to-use site that makes money from advertising. We have a modified experience for viewers using ad blockers

Wikia is not accessible if you've made further modifications. Remove the custom ad blocker rule(s) and the page will load as expected.