You may upload a JPG or PNG image of the in-game examine window.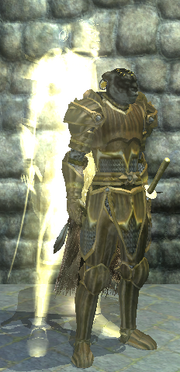 Ring of the Kerra (Qeynos)

TREASURED
NO-TRADE
Aura of the Kerra
 
Charges
Unlimited
Casting
2.14 seconds
Recovery
0.32 seconds
Duration
Until Cancelled
Recast
8.3 seconds
Slot
Charm (Optional)
Level
1 (Tier 1)
 
Effects:


Applies Aura of the Kerra when Activated.

Casts Aura of the Kerra on the user
Obtain: Reward from the quest "A Master Among Masters" in Qeynos Capitol District.
\aITEM 312659811 933865795:Ring of the Kerra\/a \aITEM 312659811 933865795:Ring of the Kerra\/a
What does this information mean?
Only Kerran may start the quest series that rewards this item, but should a Kerran who has this item use a race change potion s/he will still be able to use it.
Ad blocker interference detected!
Wikia is a free-to-use site that makes money from advertising. We have a modified experience for viewers using ad blockers

Wikia is not accessible if you've made further modifications. Remove the custom ad blocker rule(s) and the page will load as expected.