Ad blocker interference detected!
Wikia is a free-to-use site that makes money from advertising. We have a modified experience for viewers using ad blockers

Wikia is not accessible if you've made further modifications. Remove the custom ad blocker rule(s) and the page will load as expected.
In-Game Examine Window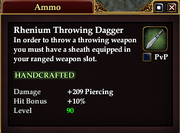 EverQuest II Ammo Information
Rhenium Throwing Dagger




In order to throw a throwing weapon you must have a sheath equipped in your ranged weapon slot.


HANDCRAFTED

 
Damage
+209 Piercing
 
Hit Bonus
+10%
 
 
Level
90 (Tier 10)
 
Obtain: Woodworker-crafted using a level 90 recipe from Woodworker Essentials Volume 92.
GameLink: \aITEM -1106365555 -1802950109:Rhenium Throwing Dagger\/a 

\aITEM -1106365555 -1802950109:Rhenium Throwing Dagger\/a