What does this information mean?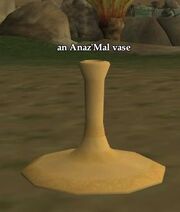 Collect or kill of the following sets of items or mobs:

Collect 20 Anaz'Mal ceremonial vases in the northern Tear of Anuk.

The vases seem to spawn at random locations around the Tear of Anuk. You can find them at the water's edge or on the ledge that surrounds the pond.

Collect 20 Sul'Dal relics in the caves beneath the Eye of Anuk
Return to Vhret Retharo in South Qeynos.