What does this information mean?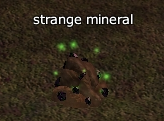 Researcher Tahar in what remains of Quel'ule has asked me to mine samples of the local minerals that appear to have been affected by the changes.

All around Quel'ule are strange mineral deposits, which look a lot like rock nodes. Click them for your updates.

Return to Researcher Tahar.
Ad blocker interference detected!
Wikia is a free-to-use site that makes money from advertising. We have a modified experience for viewers using ad blockers

Wikia is not accessible if you've made further modifications. Remove the custom ad blocker rule(s) and the page will load as expected.