What does this information mean?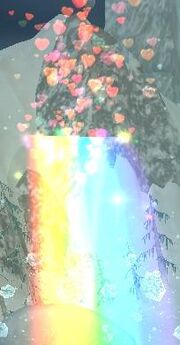 Pinchy gives you Frostfell Elf Hat. Put the cap on to prevent you being continually hit by the incurable DoT while in the Elfin Wonderland zone.
Pinchy will teleport you to Elfin Wonderland.
Recommend you stick to the right "wall" to get to your specific mobs faster. The snowball effect from your Elfin Snowball Satchel will one shot most mobs and if you need to zone out for some reason click the package at your feet.
Gather elfin magic

Silver elfin magic, down a tunnel (behind the tent): ( -259, -10, -162 ) 

/waypoint -258.51, -9.53, -162.05

Purple Elfin magic, guarded by an ice wyrm: ( -207, 1, -320 ) 

/waypoint -206.99, 0.75, -319.68

Yellow Elfin magic, guarded by an ice terror: ( -208, 13, -350 ) 

/waypoint -207.77, 12.84, -350.43

Red Elfin Magic, guarded by an ice shard: ( -219, 1, -394 ) 

/waypoint -219.04, 1.45, -394.25

Green Elfin Magic, guarded by an ice golem: ( -253, 0, -415 ) 

/waypoint -252.61, 0, -415.26

Confront Grimagus by following these steps:

At the ice wall to the east of the zone you can find Lord Bowsprite, who will spawn at ( -471, -1, -358 ) 

/waypoint -471, -1, -358

as you approach the wall . Speak to him and he makes a rainbow bridge.
Walk over the bridge. When you go over, you'll see Grimagus Gigglegibber at ( -652, -20, -312 ) 

/waypoint -652, -20, -312

. Speak with him.
Speak with Lord Bowsprite who is now standing beside Grimagus.
Speak with Grimagus again. Take one of the presents next to him, this completes the quest The Tale of the Gigglegibber Grump

Speak with Lord Bowsprite to go home.
| | |
| --- | --- |
| | This article refers to events, personae and activities only present in-game during the annual Frostfell celebration. Frostfell comes to Norrath each year from (roughly) the second week of December to the first week of January. |
Ad blocker interference detected!
Wikia is a free-to-use site that makes money from advertising. We have a modified experience for viewers using ad blockers

Wikia is not accessible if you've made further modifications. Remove the custom ad blocker rule(s) and the page will load as expected.