Ad blocker interference detected!
Wikia is a free-to-use site that makes money from advertising. We have a modified experience for viewers using ad blockers

Wikia is not accessible if you've made further modifications. Remove the custom ad blocker rule(s) and the page will load as expected.
The Item, Location, Quest, Mob or NPC referred to by this page has been removed from EverQuest II.
This article is being retained for historical reasons
This item is not obtainable in-game
In-Game Examine Window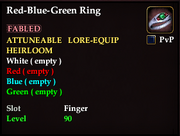 Red-Blue-Green Ring

FABLED
ATTUNEABLE   LORE-EQUIP   HEIRLOOM
 
Slot
Finger
Level
90 (Tier 10)
 
Obtain: [How can I get one?] try LootDB or the linkback
What does this information mean?
This ring has green, blue, red, and white slots.