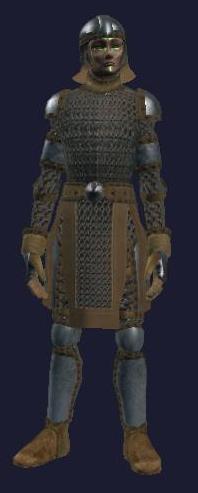 Armor Set: Ravaged Vigor
---
(2) +20 agi
(3) Applies Greater Deathly Lifetap

On any combat or spell this spell may cast Greater Deathly Lifetap on target of attack. Triggers about 2.0 times per minute.

Inflicts 665 - 1380 magic damage on target
Heals caster for 443 - 919

(5) 6% Double Attack Chance
This armor may be worn only by: Predators ( Assassin, Ranger ).

These items are sold by merchants in Moors of Ykesha at Dropship Landing Zone ( 1680, 452, 894 ) /waypoint 1680, 452, 894 
. They are the group of a mysterious Quellithulians. These specific items are sold by the Greater Shard Armor Merchant. They may also be purchased from a player crafter who has scribed Far Seas Strategic Pricing Manual, Volume IV.
This armor is the upgrade of the TSO Armor Set (Tier 1): Marauder's Guile (Armor Set)
This armor set can be further upgraded to Fabled shard armor set (Tier 3): Deadly Eruption (Armor Set)
Ad blocker interference detected!
Wikia is a free-to-use site that makes money from advertising. We have a modified experience for viewers using ad blockers

Wikia is not accessible if you've made further modifications. Remove the custom ad blocker rule(s) and the page will load as expected.