In-Game Examine Window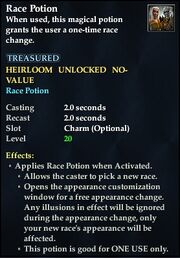 Race Potion
When used, this magical potion grants the user a one-time race change.

TREASURED
HEIRLOOM  UNLOCKED  NO-VALUE
Race Potion
 
Casting
2.0 seconds
Duration
2.0 seconds
Slot
Charm (Optional)
Level
20 (Tier 3)
 
Effects:


Applies Race Potion when Activated.

Allows caster to pick a new race.
Opens the appearance customization window for a free appearance change. Any illusions in effect will be ignored during the appearance change, only your new race's appearance will be affected.
This potion is good for ONE USE only.
Obtain: Buy from the marketplace for 1450

What does this information mean?