In-Game Examine Window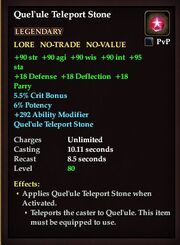 Quel'ule Teleport Stone

LEGENDARY
LORE  NO-TRADE  NO-VALUE

+90 str

+90 agi

+90 wis

+90 int

+95 sta



5.5% Crit Bonus
6%  Potency
292 Ability Modifier

Quel'ule Teleport Stone
 
Charges
Unlimited
Casting
15.0 seconds
Recast
10.0 seconds
Slot
Charm
Level
80 (Tier 9)
 
Effects:


Applies Quel'ule Teleport Stone when Activated.

Teleports the caster to Quel'ule. This item must be equipped to use.
Obtain: Reward from the quest "Save What You Can" in The Stonebrunt Highlands.
What does this information mean?
Select "Break off a pebble..." to receive Quel'Ule Teleport Pebble in your inventory. The original item will remain unchanged.