Ad blocker interference detected!
Wikia is a free-to-use site that makes money from advertising. We have a modified experience for viewers using ad blockers

Wikia is not accessible if you've made further modifications. Remove the custom ad blocker rule(s) and the page will load as expected.
In-Game Examine Window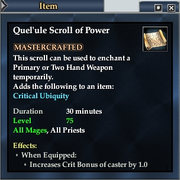 EverQuest II Temporary Adornment Information
Quel'ule Scroll of Power
MASTERCRAFTED
This item can be used to enchant a Primary or Two Hand Weapon temporarily.
Adds the following to an item:
Critical Ubiquity

 
Duration
30 minutes
 


Level
85 (Tier 9)
 
All Mages, All Priests
Effects:

When Equipped:

Increases Crit Bonus of caster by 1.0%
Obtain: Crafted by a Sage using a recipe from Sage Secrets of Quel'ule.
GameLink

: \aITEM 913396506 614788776:Quel'ule Scroll of Power\/a  

\aITEM 913396506 614788776:Quel'ule Scroll of Power\/a