In-Game Examine Window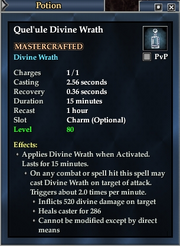 EverQuest II Item Information
Type: Potion

Quel'ule Divine Wrath

 
MASTERCRAFTED
Divine Wrath
Charges
(1/1)
Casting
3 seconds
Duration
15 minutes
Recast
1 hour
Level
80 (Tier 9)
Effects:

Applies Divine Wrath when Activated. Lasts for 15 minutes.

On any combat or spell hit this spell may cast Divine Wrath on target of attack. Triggers about 2.0 times per minute.

Inflicts 520 divine damage on target
Heals caster for 286
Cannot be modified except by direct means




Obtain: Alchemist-crafted using a level 85 recipe from Alchemy Secrets of Quel'ule.
\aITEM -1257793282 479218826:Quel'ule Divine Wrath\/a \aITEM -1257793282 479218826:Quel'ule Divine Wrath\/a
What does this information mean?
EQ2i credits this article at Census for the info in this article.
the last update on Census for this item was:
Tue, 19 Sep 2017 15:39:36 +0000
Ad blocker interference detected!
Wikia is a free-to-use site that makes money from advertising. We have a modified experience for viewers using ad blockers

Wikia is not accessible if you've made further modifications. Remove the custom ad blocker rule(s) and the page will load as expected.