For other articles with related titles, see Qeynos Claymore.

In-Game Examine Window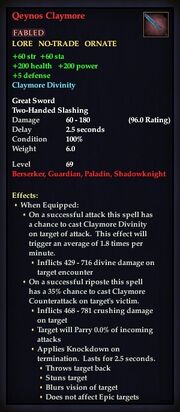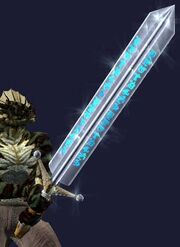 Qeynos Claymore


FABLED, Qeynos Claymore
PRESTIGE
LORE  NO-TRADE  NO-VALUE
 

+116 str

+116 agi

+116 wis

+116 int

+112 sta


+26 Weapon Skills
1.4% AE Autoattack Chance
3% Crit Chance
1.8% Crit Bonus
3.4%  Potency
3.6% Accuracy

Claymore Divinity
 
Great Sword
Two-Handed Slashing
Damage
105 - 314                  (104.8 Rating)
Delay
4.0 seconds
Level
69 (Tier 7)
Paladin, Shadowknight, Berserker, Guardian
 
Effects:


When Equipped:

On a hostile ability cast this spell has a 15% chance to cast Claymore Divinity on target of spell.

Inflicts 327 - 545 divine damage on target encounter
Cannot be modified except by direct means

On a riposte this spell will cast Claymore Counterattack on target's victim.

Applies Knockdown on termination. Lasts for 2.5 seconds.

Throws target back
Blurs vision of target
Stuns target
Does not affect Epic targets

Inflicts 357 - 594 crushing damage on target
Target will Parry 10.0% of incoming attacks
Cannot be modified except by direct means
This effect can only trigger once every 0.5 seconds.
Obtain: Reward from the quest "A Final Froglok Word."
\aITEM 1640705163 1281486941:Qeynos Claymore\/a \aITEM 1640705163 1281486941:Qeynos Claymore\/a
What does this information mean?
EQ2i credits this article at Census for the info in this article.
the last update on Census for this item was:
Thu, 04 Jan 2018 15:43:09 +0000
Ad blocker interference detected!
Wikia is a free-to-use site that makes money from advertising. We have a modified experience for viewers using ad blockers

Wikia is not accessible if you've made further modifications. Remove the custom ad blocker rule(s) and the page will load as expected.