This zone encapsulates what used to be North Qeynos and South Qeynos.
Geography
Edit
Qeynos can still be traveled by Mariner's Bells, mostly near water ways. For a list of bell locations see and updates made to travel see the Mariner's Bell page.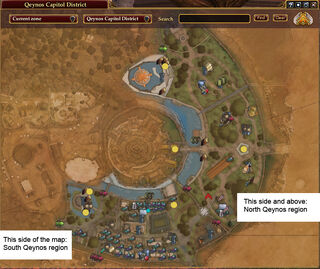 It's no longer necessary to use the bell to travel between the two regions that were formerly divided here. In this area you'll find many important locations like:
Adjacent Zones
Edit
The former "suburbs" that were once near this zone and that had player housing, like Baubbleshire, are now used for quests only.
Revive Locations
Edit
| Revive Location | Description |
| --- | --- |
Similar Zones
Edit