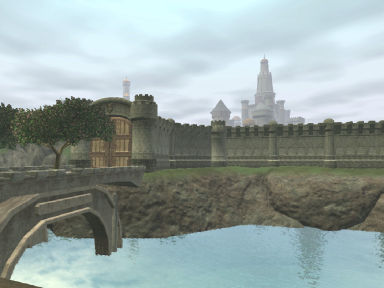 Qeynos was founded by human settlers during The Age of Enlightenment around a village on the Coldwind Coastline. The newly settled village was called Oceangreen, most likely in honor of the ample fishing on the coast and hunting in the plains that drew the villagers there in the first place. The location of Qeynos was chosen not only for its ability to feed the villagers and plains settlers, but also because of its defensibility against attack. It has been ruled by members of The Bayle Family since its founding.
Qeynos is named after the sword, the Qeynos Claymore. The word itself is an old Combine Empire-era slang term roughly translating to "manifest destiny for humanity."
The city was officially incorporated in 2890.
Qeynos Rises
Edit
With LU64 also known as Qeynos Rises, Qeynos has now been consolidated into two zones. Qeynos Capitol District combined North and South Qeynos. Qeynos Province District combined Qeynos Harbor and Elddar Grove.
The following "suburbs" were retired and are now only used for quests, but the history of their residents is retained below.
Kelethin and New Halas citizens are welcome here.
City Zones
Edit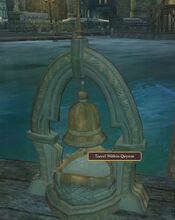 This city was updated and now consists of two zones, called districts. You no longer need to travel to each region by bell to get to combined areas in each district, though you can still do so if you prefer.

Qeynos Capital District zone is comprised of both:
Qeynos Province District zone is comprised of both:

For information on travel updates and tips for sneaking into any of these regions within Qeynos, see Mariner's Bell.
Adjacent Zones
Edit
You no longer have to travel from dock to dock, jump on carpets or take a griffon to get around the majority of Norrath. A new travel systems introduced the Globe of Swift Travel. The globe covers travel to most zones that are not part of the overrealms, like Barren Sky, etc. A map of accessible locations can be SEEN PIC
Catacombs
Edit
Removed with major updates to the city, but retained for history: Qeynos Timeline
Ad blocker interference detected!
Wikia is a free-to-use site that makes money from advertising. We have a modified experience for viewers using ad blockers

Wikia is not accessible if you've made further modifications. Remove the custom ad blocker rule(s) and the page will load as expected.