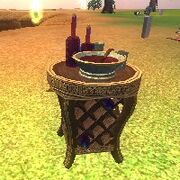 •Provisioner Essentials Volume 90 contains a Provisioner's Picnic Setting Kit, as well as a Provisioner's Picnic. The kit, when used from inventory, drops a 20-minute duration display-only picnic where you are standing (there is nothing to interact with, though you can sit on it if you are so inclined). You can reuse the kit an unlimited number of times, but you can only have one picnic out at a time. The Provisioner's Picnic, on the other hand, is the standard house item version it/
•Advanced Provisioner Volume 90 contains the recipes for three house items! The lovely Rose Wedding Cake and the Provisioner's Supply Cart. Every player may get one of three (random) drinks from the cart per day. These drinks act in the same way as the berries from the old world event Blessed Sapling, and share a 24-hour cooldown timer with it.
Ad blocker interference detected!
Wikia is a free-to-use site that makes money from advertising. We have a modified experience for viewers using ad blockers

Wikia is not accessible if you've made further modifications. Remove the custom ad blocker rule(s) and the page will load as expected.