In-Game Examine Window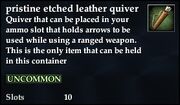 EverQuest II Item Information
Type: Container

Pristine etched leather quiver

Quiver that can be placed in your ammo slot that holds arrows to be used while using a ranged weapon. This is the only item that can be held in this container
 
UNCOMMON
Slots
10

Obtain: Tailor-crafted using a level 34 recipe from Tailor Essentials Volume 34.
Ad blocker interference detected!
Wikia is a free-to-use site that makes money from advertising. We have a modified experience for viewers using ad blockers

Wikia is not accessible if you've made further modifications. Remove the custom ad blocker rule(s) and the page will load as expected.