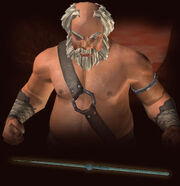 .
What does this information mean?
Gunnr spawns adds that have aggro requirements. The adds are a misty warrior, a misty crusader and a misty brawler, they cannot be tanked by the class who's name they share. E.g. a misty warrior must not be tanked by a Guardian or a Berserker. If threat is pulled by any scout/mage/priest or improper fighter a fail script will occur killing all of a certain class depending on which add it is.
Ad blocker interference detected!
Wikia is a free-to-use site that makes money from advertising. We have a modified experience for viewers using ad blockers

Wikia is not accessible if you've made further modifications. Remove the custom ad blocker rule(s) and the page will load as expected.