Ad blocker interference detected!
Wikia is a free-to-use site that makes money from advertising. We have a modified experience for viewers using ad blockers

Wikia is not accessible if you've made further modifications. Remove the custom ad blocker rule(s) and the page will load as expected.
In-Game Examine Window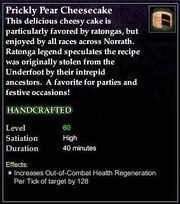 EverQuest II Item Information
Type: Food

Prickly Pear Cheesecake

This delicious cheesy cake is particularly favored by Ratongas, but enjoyed by all races across Norrath. Ratonga legend speculates the recipe was originally stolen from the Underfoot by their intrepid ancestors. A favorite for parties and festive occasions!
 
 
HANDCRAFTED
Level
60 (Tier 7)
Satiation
High
Duration
40 minutes
Effects:

Increases Out-of-Combat Health Regeneration Per Tick of target by 128

(Note: Adventure level must be 51 or higher to get the full effect.)

Obtain: Crafted by Provisioners
What does this information mean?