What does this information mean?

This is part 2 of 5 of the Bristlebane Timeline.
Description
Edit
Garby Gingham Gigglegibber can't believe he got pranked by Tobel Patadash and now he wants to get him back with a prank of his own design. Never being one to turn down a chance to play a prank, I've agreed to help Garby create a pie of his own to give to Tobel. I must say, however, Garby's ingredient list looks a bit odd. I'm not sure how this is going to turn out.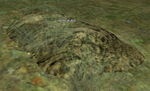 At least

2g

 

20s

Completing this quest gives +2500 faction with Bristlebane
One of the Following:
Ad blocker interference detected!
Wikia is a free-to-use site that makes money from advertising. We have a modified experience for viewers using ad blockers

Wikia is not accessible if you've made further modifications. Remove the custom ad blocker rule(s) and the page will load as expected.