In-Game Examine Window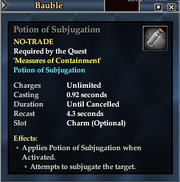 Potion of Subjugation

NO-TRADE
Required by the Quest
'Measures of Containment'
Potion of Subjugation
 
Charges
Unlimited
Casting
1.0 second
Duration
Until Cancelled
Recast
5.0 seconds
Slot
Charm (Optional)
 
Effects:


Applies Potion of Subjugation when Activated.

Attempts to subjugate the target.
Obtain: Received with the quest Measures of Containment
What does this information mean?