You may upload a JPG or PNG image of the in-game examine window.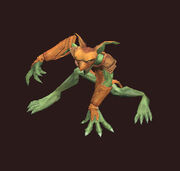 EverQuest II Item Information
Petamorph Wand: Nurgan Scout

When used, this magical wand expends its energy to shape change your combat pet into another creature for two hours, or until it is killed. This wand only works on summoned combat pets. Does not work on cosmetic pets.
 
TREASURED
ORNATE  ATTUNABLE
Petamorph: Nurgan Scout
Charges
Unlimited
Casting
4 seconds
Duration
2 hours
Recast
2 seconds
Effects:

Applies Petamorph: Nurgan Scout when Activated. Lasts for 2 hours.

Turns the caster's combat pet into a Nurgan scout. Does not work on cosmetic pets.



Obtain: This item can be purchased from a Bristlebane Day merchant using Fool's Gold Coins.
\aITEM -648375088 1101596118:Petamorph Wand: Nurgan Scout\/a \aITEM -648375088 1101596118:Petamorph Wand: Nurgan Scout\/a
What does this information mean?
This item can only be used by "pet classes" (Channeler, Necromancer, etc.) and can not be used on "fluff" pets that only follow players around.
It is one of many options to purchase only during Bristlebane Day.
| | |
| --- | --- |
| | This article refers to events, personae and activities only present in-game during the annual Bristlebane Day celebration, which comes to Norrath each year on and around April 1st. |
EQ2i credits this article at Census for the info in this article.
the last update on Census for this item was:
Tue, 24 Oct 2017 20:53:42 +0000
Ad blocker interference detected!
Wikia is a free-to-use site that makes money from advertising. We have a modified experience for viewers using ad blockers

Wikia is not accessible if you've made further modifications. Remove the custom ad blocker rule(s) and the page will load as expected.