In-Game Examine Window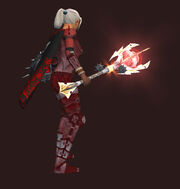 Penitent's Absolution

MYTHICAL
LORE  NO-TRADE

+75 Primary Attributes

+80 sta



2.7% Crit Chance
4.4% Crit Bonus
5.1%  Potency
2.1% Ability Reuse Speed

Aftershock
Penitent Smite
Cleansing of the Soul
 
Hammer
Main Hand Crushing
Damage
163-633                  (118.8 Rating)
Delay
6.0 seconds
Level
80 (Tier 9)
Inquisitor
 
Effects:


When Equipped:
When Equipped:

On any successful attack this spell has a chance to cast Pentitent Smite on target of attack. Lasts for 12.0 seconds. This effect will trigger an average of 2.4 times per minute.

Inflicts 607-910 divine damage on target
Makes group members (AE) immune to Daze and Stifle effects

This spell can not be modified except by direct means

Applies Cleansing of the Soul when Activated.

Dispels 176 levels of any hostile effects on group members (AE)
Casts Penitent Cleansing for each successful Dispel

Heals target for 1517-2275

The casting time of Cleansing of the Soul is 0.57 seconds and the reuse time of the spell is 13.01 seconds.
Obtain: Reward from the quest "The Legacy of Yasva V'Alear."
\aITEM 1220657930 265970665:Penitent's Absolution\/a \aITEM 1220657930 265970665:Penitent's Absolution\/a
What does this information mean?
This item is a reward from one of the Epic Quests introduced with Game Update 42.
See the item's Obtain field for the particular quest that rewards this item.