You may upload a JPG or PNG image of the in-game examine window.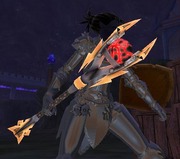 Penitent's Absolution

FABLED
LORE  NO-TRADE

+26 str

+36 wis

+24 int

+26 sta




+180 health

+160 power


+5 Ministration

+65 Ability Modifier

Penitent Smite
 
Hammer
Main Hand Crushing
Damage
74-298                  (93.0 Rating)
Delay
4.0 seconds
Level
80 (Tier 9)
Inquisitor
 
Effects:


When Equipped:

On any successful attack this spell has a chance to cast Penitent Smite on target of attack. Lasts for 8.0 seconds. This effect will trigger an average of 1.8 times per minute.

Inflicts divine damage on target
Makes group members (AE) immune to Stifle effects

This spell can not be modified except by direct means
Obtain: Reward from the quest "The Saga of Yasva V'Alear."
\aITEM -1166179674 265970665:Penitent's Absolution\/a \aITEM -1166179674 265970665:Penitent's Absolution\/a
What does this information mean?
This item is a reward from one of the Epic Quests introduced with Game Update 42.
See the item's Obtain field for the particular quest that rewards this item.
Ad blocker interference detected!
Wikia is a free-to-use site that makes money from advertising. We have a modified experience for viewers using ad blockers

Wikia is not accessible if you've made further modifications. Remove the custom ad blocker rule(s) and the page will load as expected.