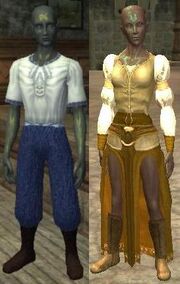 .
What does this information mean?
There are two ways to trigger hard mode. One is to drag the twins (Penda Parmare and Kendis Parmare) into each other's line of sight. They will then activate hard mode.
The other is to allow a courtly custodian to run across the zone and inform the other Parmare.
All of the same strategies for the easy mode encounter are still applicable. However, the AOEs hit harder, there are adds to contend with, and most importantly your raid force will be split in two parts.
Remember that Penda is the one that can reflects spells and magic damage.
Ad blocker interference detected!
Wikia is a free-to-use site that makes money from advertising. We have a modified experience for viewers using ad blockers

Wikia is not accessible if you've made further modifications. Remove the custom ad blocker rule(s) and the page will load as expected.