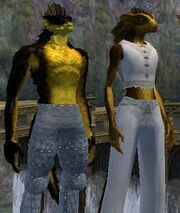 .
You need to climb a rope ladder just to the right of one of the camps down river from the Tabernacle of Pain
You need faction with the Kunzar Jungle Villagers to buy items from him.
Sells the following items (all require +40,000 faction):
Ad blocker interference detected!
Wikia is a free-to-use site that makes money from advertising. We have a modified experience for viewers using ad blockers

Wikia is not accessible if you've made further modifications. Remove the custom ad blocker rule(s) and the page will load as expected.