Ad blocker interference detected!
Wikia is a free-to-use site that makes money from advertising. We have a modified experience for viewers using ad blockers

Wikia is not accessible if you've made further modifications. Remove the custom ad blocker rule(s) and the page will load as expected.
In-Game Examine Window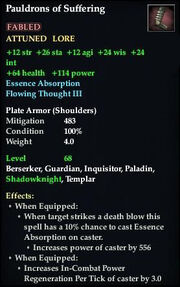 Pauldrons of Suffering

FABLED
ATTUNEABLE   LORE

+12 str

+12 agi

+24 wis

+24 int

+26 sta




+64 health

+114 power



Essence Absorbtion
Flowing Thought III
 
Plate Armor (Shoulders)
Mitigation
483
Level
68 (Tier 7)
Berserker, Guardian, Inquisitor, Paladin, Shadowknight, Templar
 
Effects:


Applies Essence Absorbtion when Equipped

When target strikes a death blow this spell has a 10% chance to cast Essence Absorption on caster.

Increases power of caster by 556

Applies Flowing Thought III when Equipped

Increases In-Combat Power Regeneration Per Tick of caster by 3.0
Obtain: Suffering in Halls of the Seeing.
What does this information mean?