You may upload a JPG or PNG image of the in-game examine window.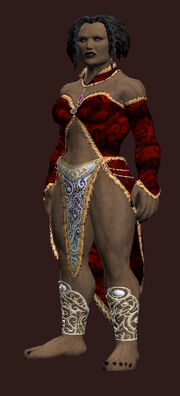 \aITEM 1838518868 872671922:[Passionate Attire]\/a \aITEM 1838518868 872671922:[Passionate Attire]\/a
What does this information mean?
On females, this is a revealing dress, but on males it is similar in style to the gi often associated with monks and bruisers.
Similar holiday-themed clothing can be crafted, though the styles are slightly less ornate:
The following are also crafted from Erollisi Day recipes, though the styles are quite different:
Green Formal Attire - a full coverage outfit with romantic details for females, a suit for males
Supple Hart Armor- a leathery looking bustier, pants, gloves, and bracers - identical on male and female characters
Ad blocker interference detected!
Wikia is a free-to-use site that makes money from advertising. We have a modified experience for viewers using ad blockers

Wikia is not accessible if you've made further modifications. Remove the custom ad blocker rule(s) and the page will load as expected.