Ad blocker interference detected!
Wikia is a free-to-use site that makes money from advertising. We have a modified experience for viewers using ad blockers

Wikia is not accessible if you've made further modifications. Remove the custom ad blocker rule(s) and the page will load as expected.
In-Game Examine Window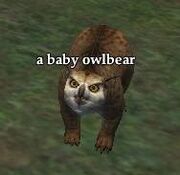 Owlbear hatchling

NO-TRADE   ORNATE
Pet Owlbear Hatchling
 
Charges
Unlimited
Slot
Charm (Optional)
 
Effects:


Applies Pet Owlbear Hatchling when Activated.

Summons a pet baby owlbear
Obtain: May be purchased from Milton Flunknuttle after you have completed Milton's Stock
What does this information mean?
The baby owlbear will not fight for you or do much of anything, but he is very cute and will follow you around.
This pet does override your Deity pet and may override other fluff pets.