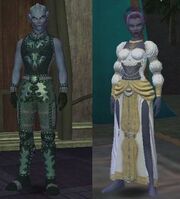 .
What does this information mean?
Orinox (or more accurately his pet) stifles with DOT frequently and for a long period of time. If you have the ability to regenerate HP, such as through Hibernation, do so.
Because of his summoned mage pets, utilize AOE frequently. He is primarily a melee "burn" type fight. Alternatively, rooting the pet and using snare on Orinox while continually moving may assist healer classes in combating the mob, using DOTs and nukes.
For Solo Fury Fight: Use an Elemental or an Arcane Resist Potion (have a few on hand to modify as you see what is effecting you) taken prior to fight to assist in avoiding some of the stuns. Also re-spec'd Fury AA line to be DPS Mainly in INT WIS STA (STA for the resist Stifle end-line spell).