Ad blocker interference detected!
Wikia is a free-to-use site that makes money from advertising. We have a modified experience for viewers using ad blockers

Wikia is not accessible if you've made further modifications. Remove the custom ad blocker rule(s) and the page will load as expected.
In-Game Examine Window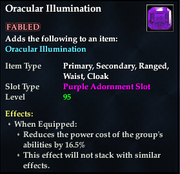 EverQuest II Adornment Information
Oracular Illumination
FABLED

NO-TRADE

Adds the following to an item:
Item Type
Ranged,  Waist
Slot Type
Purple Adornment Slot
Level
95 (Tier 10)
Effects:


When Equipped:

Reduces the power cost of the group's abilities by 16.5%.
This effect will not stack with similar effects.
Obtain: Adorner-crafted using a 475 skill recipe from War Rune Recipe: Oracular Illumination
\aITEM -1656668574 1364238285 0 0 0:[Oracular Illumination]\/a \aITEM -1656668574 1364238285 0 0 0:[Oracular Illumination]\/a