In-Game Examine Window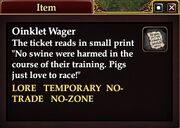 EverQuest II Item Information
Type: Quest Item

Oinklet Wager

The ticket reads in small print "No swine were harmed in the course of their training. Pigs just love to race"!
 
LORE  TEMPORARY  NO-TRADE  NO-ZONE

Obtain: Purchased from Racemaster Swinson for

72s

.
What does this information mean?
Related Quests
Edit
Ad blocker interference detected!
Wikia is a free-to-use site that makes money from advertising. We have a modified experience for viewers using ad blockers

Wikia is not accessible if you've made further modifications. Remove the custom ad blocker rule(s) and the page will load as expected.