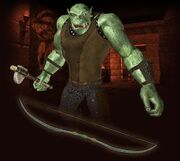 .
EverQuest II Named Monster Information
Zone (Patch)
The Commonlands (Shattered Lands)
Race
Orc
Level
15-16▲ Tier 2 Solo , (Approx. HP: Needed)
Location
Far Eastern Edge of The Commonlands south of The Sprawl entrance. ( -1217, -47, 609 ) 

/waypoint -1217, -47, 609

 
Reported Drops
Respawn Timer
Needed
Melee Attacks
Slashing
Spell Attacks
None
Special Attacks

None

Resistances
Needed
Related Quests
AA Exp
Yes
Status Points
none
What does this information mean?
Ad blocker interference detected!
Wikia is a free-to-use site that makes money from advertising. We have a modified experience for viewers using ad blockers

Wikia is not accessible if you've made further modifications. Remove the custom ad blocker rule(s) and the page will load as expected.