Ad blocker interference detected!
Wikia is a free-to-use site that makes money from advertising. We have a modified experience for viewers using ad blockers

Wikia is not accessible if you've made further modifications. Remove the custom ad blocker rule(s) and the page will load as expected.
In-Game Examine Window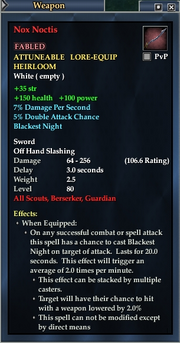 Nox Noctis

FABLED
ATTUNEABLE   LORE-EQUIP   HEIRLOOM

+35 str




+150 health

+100 power



7 Damage Per Second
5% Multi Attack Chance

Blackest Night
 
Sword
Off Hand Slashing
Damage
64 - 256                  (106.6 Rating)
Delay
3.0 seconds
Slot
Secondary
Level
80 (Tier 9)
All Scouts, Berserker, Guardian
 
Effects:


When Equipped:

On any successfull combat or spell attack this spell has a chance to cast Blackest Night on target of attack. Lasts for 20.0 seconds. This effect will trigger an average of 2.0 times per minute.

This effect can be stacked by multiple casters.
Target will have their chance to hit with a weapon lowered by 2.0%
This spell can not be modified except by direct means
Obtain: From the Exquisite Chest of Demetrius Crane in Shard of Hate.
\aITEM 1667730261 -2034450721:Nox Noctis\/a \aITEM 1667730261 -2034450721:Nox Noctis\/a
What does this information mean?