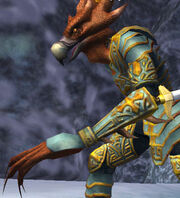 .
What does this information mean?
Nasty AoE, focus damage (so no resists available against it). Standard strategy in the max level of 80 days was good timing with AE blockers. Even level 90s may have issues alone due to the nature of focus damage. Soothe him and have someone pull the switch so you can just avoid this encounter.
Control-immune. Be very careful if you solo'ed up to this point using stuns/roots/mezzes.