You may upload a JPG or PNG image of the in-game examine window.
EverQuest II Item Information
\aITEM 1827771380 1602206540:Nhjela's Poem\/a \aITEM 1827771380 1602206540:Nhjela's Poem\/a
What does this information mean?
Book Text
Nhjela's Poem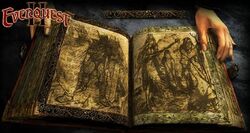 | | |
| --- | --- |
| Style: | House Item |
| LootDB Link: | LootDB |
by Nhjela, poet-in-residence of the Poet's Palace in the Shimmering Citadel.
In our sleep we wander Away to distant shores Our eyes see things they've never seen before We hear beautiful music Speak a different tongue In dreams, we do not walk, we do not run We fly
Wings of night enfold us Letting dreamers soar Far over the fields and through the sky Higher than the mountains Over sleeping seas Graceful as a night owl on the wing We fly
Rising high above all Arms flung open wide Caressed by the cold wind that rushes by Silent as a soft rain Swift as waterfalls Dark as shadowed pools beneath the moons We fly
Tumbling...ever soaring Turning...ever dreaming Day turns to dusk, then to night, then to dawn And we fly
Golden wings enfold me And my spirits rise High above the hills and over shores Gentle is the morning Waking in the sky A citadel of love is what we've found And we fly
Credits
Ad blocker interference detected!
Wikia is a free-to-use site that makes money from advertising. We have a modified experience for viewers using ad blockers

Wikia is not accessible if you've made further modifications. Remove the custom ad blocker rule(s) and the page will load as expected.