What does this information mean?
This quest is part 15 of 20 in the Steamfont Mountains Timeline.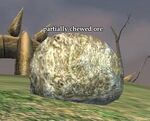 Collect 10 Ebon Drake Flame Sacs

The Drakes are located around the dragon skeleton ( -928, 98, 1370 ) 

/waypoint -928, 98, 1370

and are level 46-47.

Collect 5 samples of the Ore that Drakes eat.

The ore will be a harvest node on the ground, within a broad range, called "Partially Chewed Ore"

Return to Plinka Fiddle for your reward.
One of the following
At least

2g

 

69s

 

57c
Ad blocker interference detected!
Wikia is a free-to-use site that makes money from advertising. We have a modified experience for viewers using ad blockers

Wikia is not accessible if you've made further modifications. Remove the custom ad blocker rule(s) and the page will load as expected.