Ad blocker interference detected!
Wikia is a free-to-use site that makes money from advertising. We have a modified experience for viewers using ad blockers

Wikia is not accessible if you've made further modifications. Remove the custom ad blocker rule(s) and the page will load as expected.
The Dread Guards of Neriak have their names randomly assigned with every game reset. This is a list of their spawn spots, since those never change.
They also come in three "stances": on foot, on wargback, and on horseback. It is unknown at this time if (like certain mobs in the Fens of Nathsar) they can dismount and have mount and guard fight separately. As of the Tears of Veeshan expansion, the level of the Neriak Epic Dread Guards has been raised massively.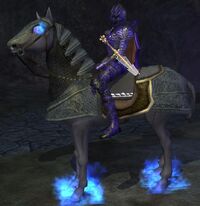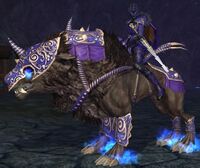 Indigo Hollow
Location
Mapref
Stance
Notes
Guarding entrance to Darklight Wood
( 14, 17, -58 ) 

/waypoint 14, 17, -58

Horse
85^^^ Epic x4
Guarding entrance to Darklight Wood
( 4, 17, -55 ) 

/waypoint 4, 17, -55

Horse
85^^^ Epic x4
East wall overlooking Darklight Wood entrance
( -13, 29, -47 ) 

/waypoint -13, 29, -47

Foot
95^^^ Epic x2
West wall overlooking Darklight Wood entrance
( 33, 29, -53 ) 

/waypoint 33, 29, -53

Foot
95^^^ Epic x2
Inside east wall at Darklight Wood entrance
( -5, 17, -49 ) 

/waypoint -5, 17, -49

Foot
Two 100^^^ Epic x4 (ungrouped)
Inside west wall at Darklight Wood entrance
( 25, 17, -51 ) 

/waypoint 25, 17, -51

Foot
Two 100^^^ Epic x4 (ungrouped)
Patrolling from Darklight Wood entrance to eastern shops
NA
Warg
100^^^ Epic x4
Patrolling from Dockside Markets tunnel to New Foreign Quarter tunnel
NA
Warg
100^^^ Epic x4
Guarding the tunnel to Dockside Markets
( 29, 17, 21 ) 

/waypoint 29, 17, 21

Horse
85^^^ Epic x4
Guarding the tunnel to Dockside Markets
( 15, 17, 22 ) 

/waypoint 15, 17, 22

Horse
85^^^ Epic x4
Guarding the tunnel to the New Foreign Quarter
( 90, 17, 5 ) 

/waypoint 90, 17, 5

Horse
85^^^ Epic x4
Guarding the tunnel to the New Foreign Quarter
( 84, 17, 17 ) 

/waypoint 84, 17, 17

Horse
85^^^ Epic x4
Dockside Markets
Location
Mapref
Stance
Notes
Guarding the bridge/tunnel to Indigo Hollow
( -59, 11, 152 ) 

/waypoint -59, 11, 152

Horse
85^^^ Epic x4
Guarding the bridge/tunnel to Indigo Hollow
( -83, 11, 153 ) 

/waypoint -83, 11, 153

Horse
85^^^ Epic x4
Guarding the way to the Indigo Hollow bridge
( -79, 11, 277 ) 

/waypoint -79, 11, 277

Horse
85^^^ Epic x4
Guarding the way to the Indigo Hollow bridge
( -64, 11, 277 ) 

/waypoint -64, 11, 277

Horse
85^^^ Epic x4
Patrolling from Indigo Hollow bridge to the Spires of Innoruuk tunnel
NA
Warg
100^^^ Epic x4
Patrolling from northeast Down Under entrance to Seloxia Stronghold to J'Narus Landing
NA
Warg
100^^^ Epic x4
Guarding J'Narus Landing
( -3, 7, 335 ) 

/waypoint -3, 7, 335

Foot
100^^^ Epic x2
Guarding J'Narus Landing
( -3, 6, 315 ) 

/waypoint -3, 6, 315

Foot
100^^^ Epic x2
Guarding the northeast Down Under entrance
( -136, 7, 243 ) 

/waypoint -136, 7, 243

Horse
85^^^ Epic x4
Inside the bank
( -164, 13, 282 ) 

/waypoint -164, 13, 282

Foot
100^^^ Epic x4
Inside the bank
( -163, 13, 298 ) 

/waypoint -163, 13, 298

Foot
100^^^ Epic x4
Guarding the Spires of Innoruuk tunnel
( -169, 13, 257 ) 

/waypoint -169, 13, 257

Horse
85^^^ Epic x4
Guarding the Spires of Innoruuk tunnel
( -171, 13, 249 ) 

/waypoint -171, 13, 249

Horse
85^^^ Epic x4
Down Under
Location
Mapref
Stance
Notes
At the banker
( -200, -3, 234 ) 

/waypoint -200, -3, 234

Foot
At the banker
( -204, -3, 239 ) 

/waypoint -204, -3, 239

Foot
Cristanos Plaza
Location
Mapref
Stance
Notes
Guarding the K'Nex Falls tunnel
( -487, 24, 242 ) 

/waypoint -487, 24, 242

Horse
90^^^ Epic x4
Guarding the K'Nex Falls tunnel
( -489, 23, 233 ) 

/waypoint -489, 23, 233

Horse
90^^^ Epic x4
Patrolling from [where?] to [where?]
NA
Warg
100^^^ Epic x4
Guarding the bridge to Death Grotto
( -581, 22, 167 ) 

/waypoint -581, 22, 167

Horse
90^^^ Epic x4
Guarding the bridge to Death Grotto
( -592, 23, 167 ) 

/waypoint -592, 23, 167

Horse
90^^^ Epic x4
Death Grotto
Location
Mapref
Stance
Notes
At the entrance to Death Grotto
( -590, 28, 28 ) 

/waypoint -590, 28, 28

Horse
90^^^ Epic x4
At the entrance to Death Grotto
( -580, 28, 28 ) 

/waypoint -580, 28, 28

Horse
90^^^ Epic x4
Inside the west wall
( -568, 28, 21 ) 

/waypoint -568, 28, 21

Foot
two 100^^^ Epic x4 (ungrouped)
Inside the east wall
( -600, 28, 21 ) 

/waypoint -600, 28, 21

Foot
two 100^^^ Epic x4 (ungrouped)
Patrolling from the western housing to the gate to the eastern housing
NA
Warg
100^^^ Epic x4